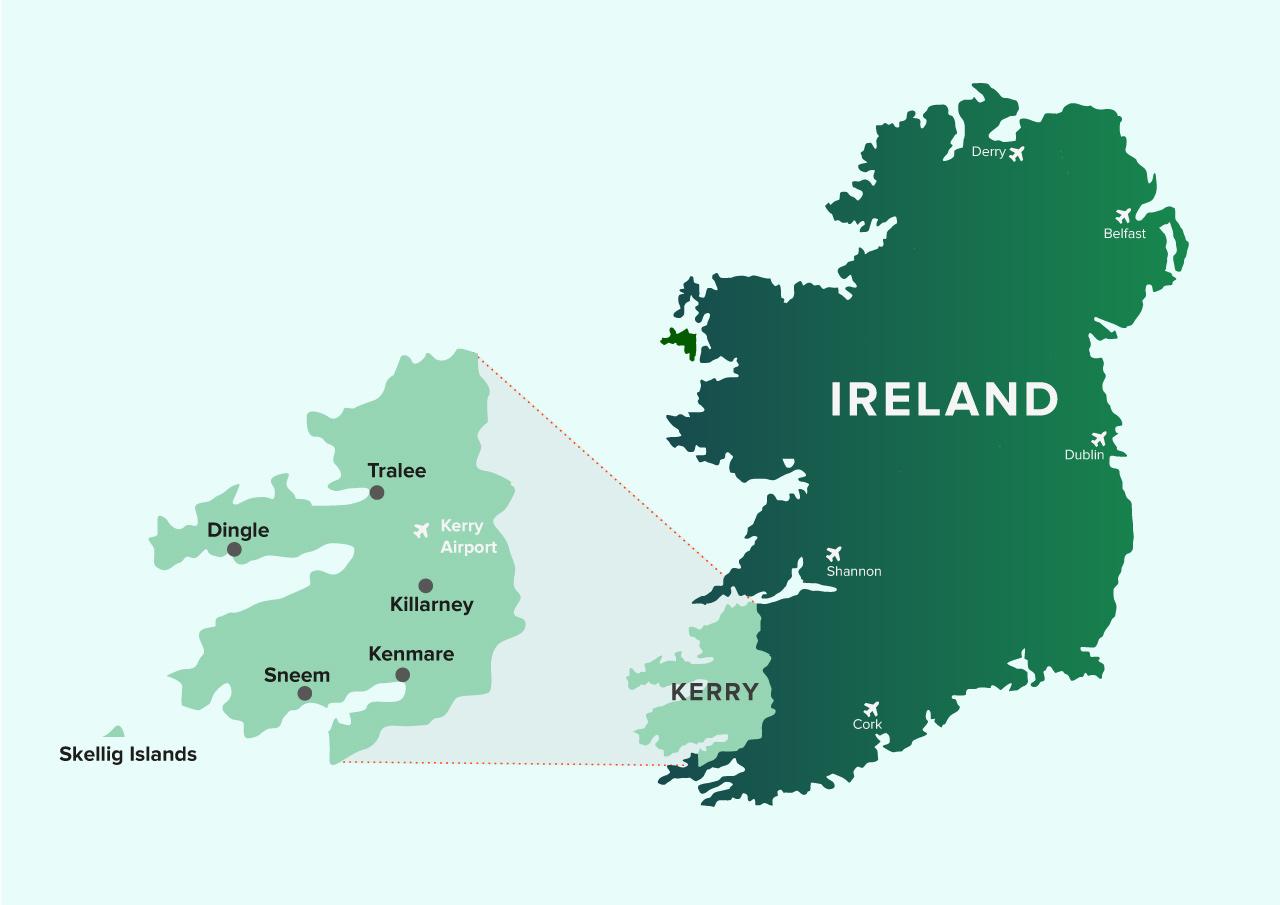 Fly to Kerry
Kerry is well serviced by one regional & three international airports. The easiest route is to fly directly from London to Kerry or fly to Dublin & then on to Kerry.
Kerry Airport: 
Running direct flights daily to London & Dublin, Kerry Airport is located 15 mins from both Killarney & Tralee. Car hire is available at the Airport.
Cork International Airport:
95 km from Killarney, Cork Airport offers a wide range of international flights into South West Ireland. 
Bus & Rail connections are available between Cork & Killarney
Shannon International Airport:
Located 135 km from Killarney Shannon Airport offers a wide range of European & US routes.
Dublin International Airport:
The capital city is only 1 hr by plane or 3.5 hrs by road from Kerry.
Ireland is served by two major, low-cost, national airlines; Ryanair and Aer Lingus as well as dozens of international carriers.
Travel by train
Regular Train services to Kerry are provided by Irish Rail. The three stations in Kerry served by rail are Tralee, Farranfore (airport), and Killarney.
Website: www.irishrail.ie
Take the ferry
The closest Car Ferry to Kerry is located in Ringaskiddy Co. Cork approx 90 minutes drive from Killarney. Ferry companies operating out of Cork include;
Hit the road
Destinations are easily accessible within the region by coach, minibus or car.
Travel advice
For further travel queries & advice on the best options contact the Kerry Film Office on  +353 66 715 9675 or siobhan@screenkerry.ie. We're here to assist!