Kerry 
....a natural film location!
If you're looking for locations, crew, facilities or financial incentives in Ireland, Screen Kerry is a one-stop shop. We provide comprehensive support to Film, TV & Animation productions locating in the county.
Whatever you need we can assist you. Kerry has a long history working with film production companies. In July 2021 Olivia Colman starred in "Joyride" which shot in Tralee. The Irish language Feature, "Tarrac" shot in Dingle that October. Prior to this JJ Abrams "Star Wars" shot on Skellig Michael and Parknasilla was the location for Yorgos Lanthimmos' "The Lobster". Productions have been shot in Kerry for over a century. This began in 1910 when the New York based "O'Kalem Company" filmed more than 20 feature films here! Not only can we provide a diverse range of film locations, but we understand the range of services a successful production needs & have experience in delivering these.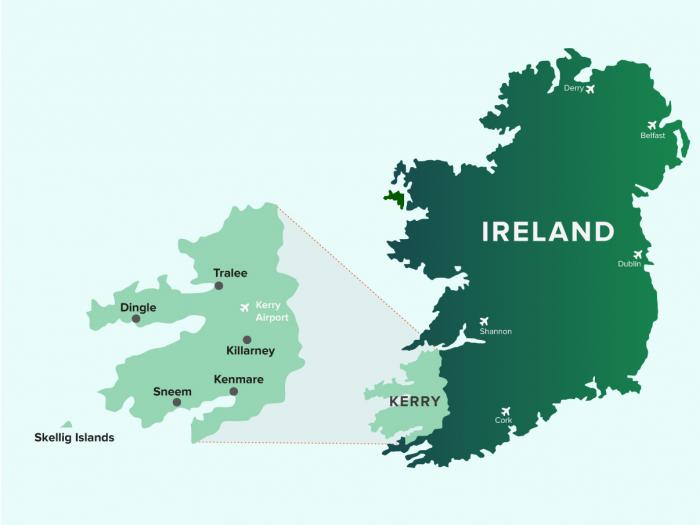 The county has a long history of training competent crew and production staff to work in the Film & TV industry. For over 30 years trainees have gained the practical skills they need to take on roles in studio & location shoots. Previous graduates of the Kerry College Broadcast Production Skills course currently work in the industry in roles across Documentary, Factual TV, TV Drama & Film. This network of skilled professionals is an asset to the county as they bring their experience to bear on productions here.
Our accommodation, transport and catering services are second to none. Kerry service providers have evolved through decades of welcoming visitors to the county to provide a notably high standard. They are efficient and highly adaptable and are experienced in working with film crews. We're also hugely lucky to have specialist film service company "Work At Height" based in the county. They are adept at providing on location solutions and work globally on large budget film production sets.
Getting here
Kerry is easily accessed via the two airports in the West, Kerry Airport (20 mins to Tralee or Killarney) & Shannon airport (<2hrs from Tralee or Killarney). The national airport in Dublin is a a short flight away or accessible by train.
We value the economic benefit the film industry brings to the county and  work hard to ensure you have an exceptional experience of filming here.
In 2015 Skellig Michael became the island "Ahch-To" in "Star Wars: The Force Awakens". JJ Abrams & his crew spent a number of weeks in the county filming on this remote island off the Kerry Coast. In 2017 Rian Johnson returned to this same spot to film "Star Wars: The Last Jedi". In 2015 Yorgos Lanthimos & his team arrived in Parknasilla 5* Hotel on the Iveragh Peninsula in Kerry to film Colin Farrell's attempts to find a mate in the absurdist dystopian black comedy "The Lobster". "Far & Away", "The Playboy of the Western World" & "Ryan's Daughter" are more examples of films that have shot here successfully down through the years.
Kerry is known internationally for its scenic strengths, from the wild & rugged Atlantic Coast to its inland mountain ranges, lakes & forests. What is less well known is its long history & experience of working with Directors, Producers and Crew to ensure successful shoots.
Come talk to us. We want to work with you!
Know what you're looking for? Find the right location